Tuesday, February 6, 2018.
I just arrived in Buenos Aires and I decided to start touring the city.
On the advice of my couchsurfer Lucas and his colleague Rita, I began my tour of the capital along the Avenida 9 de Julio, I took a left turn to the bohemian neighborhood of San Telmo to finish at La Plaza Dorrego. "The Plaza Dorrego Café is a typical place, you should definitely have lunch there", she told me.
OK, let's see what it is.
After walking in under an oppressive heat, stopping only to buy bottles of fresh water, I arrived at this very friendly Dorrego square, and entered into the bar.
Rita was right, this bar was full of charm and history, and all its tables and walls were engraved with pens or knives, it was impressive! It is held by this old man, a tough man, a real one, holding his restaurant with an iron fist but who doesn't lack sympathy towards his customers.
After eating a "Lomito", the typical dish of the restaurant, I noticed that the gentleman made a face when he saw customers engraving the tables with a knife.
Not understanding why while it seems to be the whole point of the bar, I went to the owner and asked if I can write a message  dear to my heart on my table.
– I'd prefer you don't because sometimes I'm bothered by the municipality after improper and insulting engravings.

– It's a pity, I had a message that means a lot to me and I would have been delighted to share it with you.
Seeing that I was in good faith, he asked me to wait for him, finished serving his customers and came back to me with a postcard of the bar, suggesting to write on it and keep the secret.
I wrote on the postcard but instead of leaving with it, I asked him to keep it and told him my story:
I am Walid Maalej, I am Tunisian, I started a world tour. Buenos Aires is my first destination, today is my first day, and I just had my first meal at your bar. Would you like to keep this postcard?
He read it, smiled at me, and we took a picture together.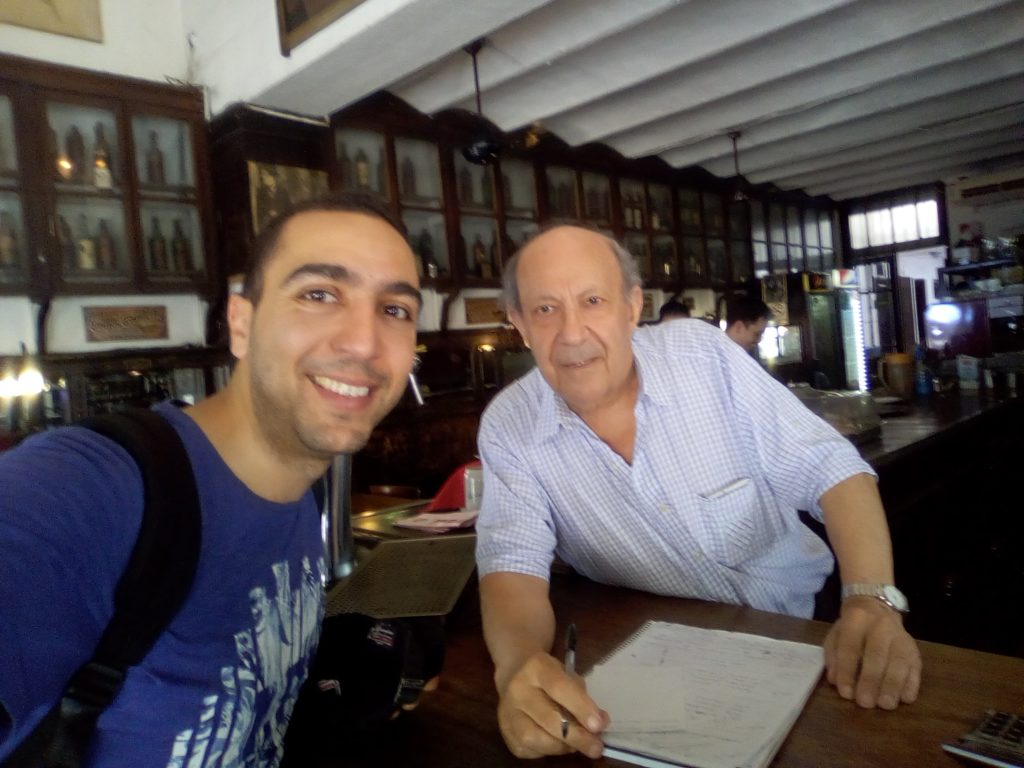 The bar of Plaza Dorrego, a must do for lovers of typical atmosphere ☺
Address: Bar Plaza Dorrego Defensa 1098, San Telmo
Website: http://dorregocafe.aminiarestaurant.co/