Mystic! This is the least we can say about Chiapas. The people, the customs, the dialects, the waves that reign, everything is different here! This state on the border with Guatemala is unfortunately marginalized and you can easily see it! Blockage of roads, widely present indigenous dialects, mixed religious practices, and some villages opposed to the central government and living in total autonomy of it!
Chiapas is certainly a state apart but a very enjoyable one.
If the capital Tuxla Gutiérrez is not really a must do, other spots are worth the visit.
San Cristóbal de las casas
San Cristóbal is the touristiest place in Chiapas and inevitably the most visited. It reigns in this village a different atmosphere from the other villages of Mexico, reason why I made my headquarter during my stay in Chiapas.
San Cristóbal is a very pretty village, its craft market is nice and we eat really well here!
A special mention to the Cafe Al Grano at the central square El Zócalo for its chilaquiles with chicken and eggs, and to the vegetarian restaurant Te quiero verde for its lentil burger, a real delight!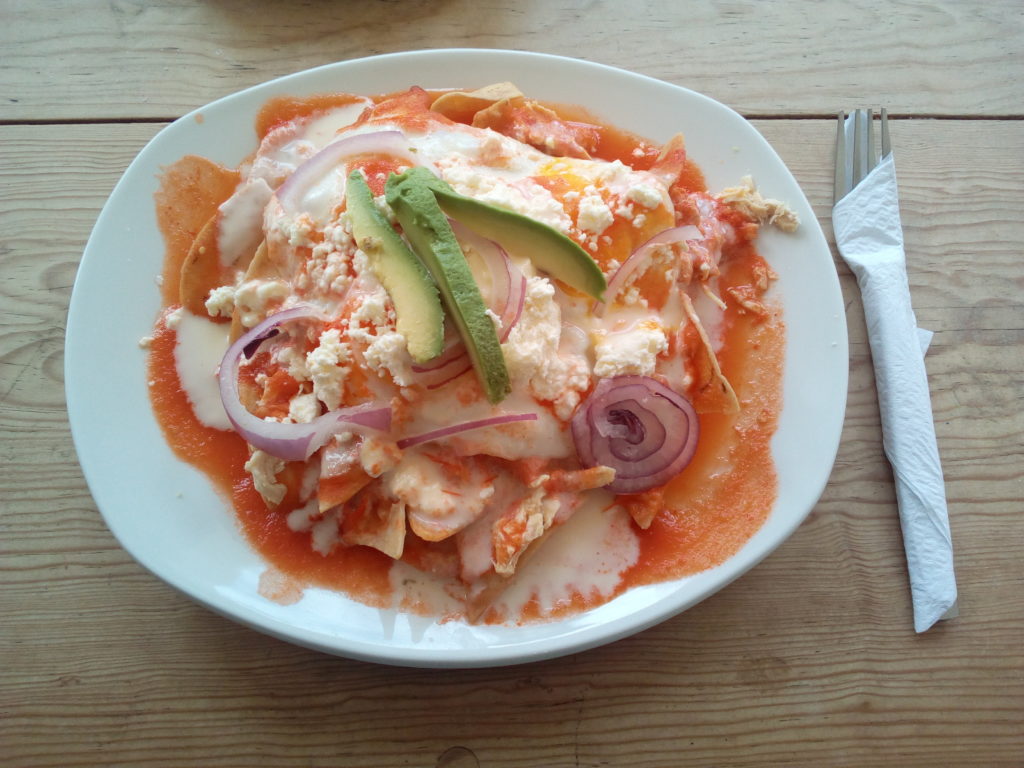 Finally, for salsa lovers, the bar Revolución often invites on Saturday evening a group that plays cumbia and salsa live, it is a little cramped but the atmosphere is great!
Canyon El Sumidero
In search of natural landscapes after spending a few weeks in cities, I went on a trip to Canyon del Sumidero. This geological disruption dating back 12 million made place to a 21 km cruise in the Rio Grijalva, with mountain walls reaching 1,000 m in height.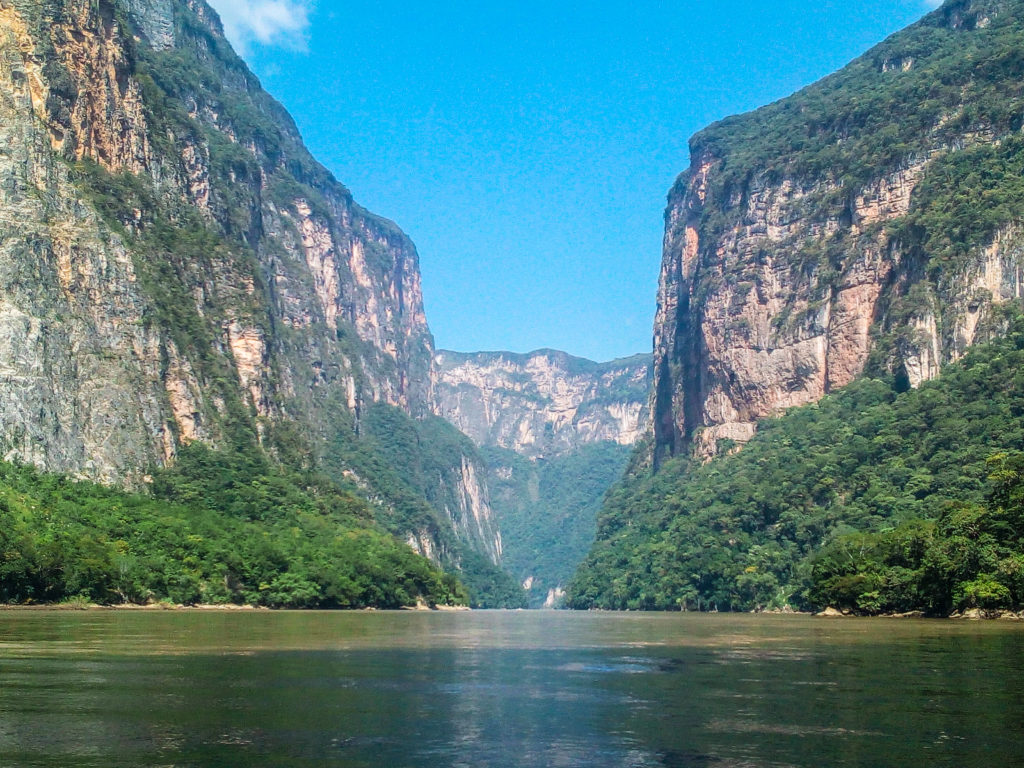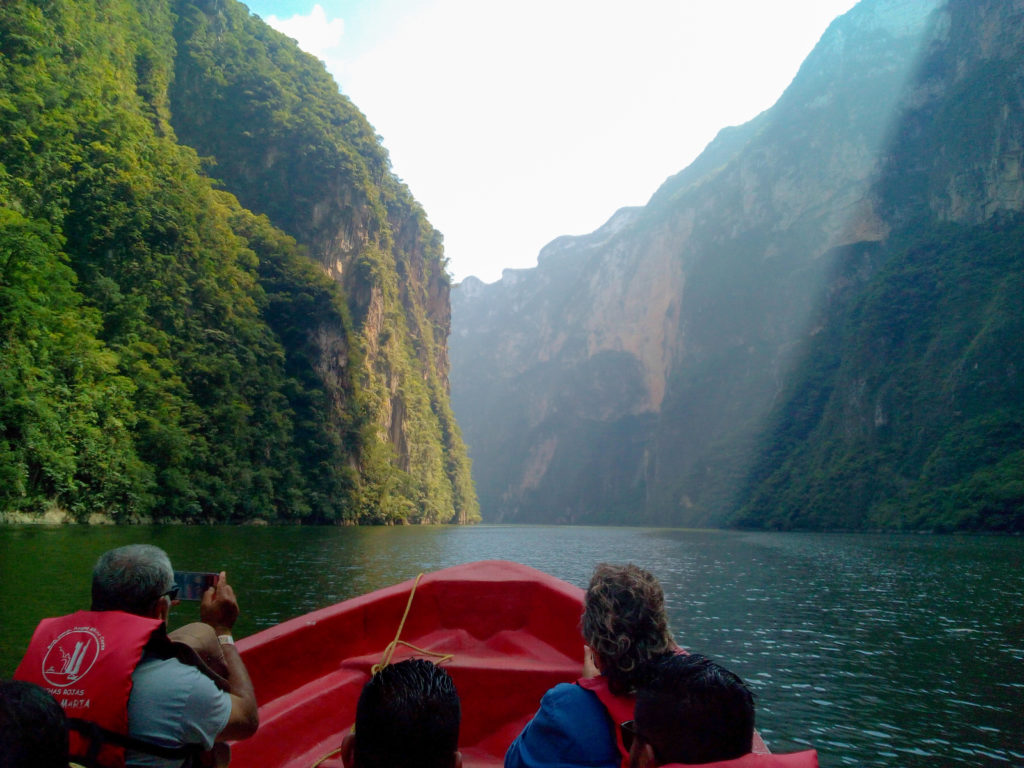 The excursion is done during the day, under a blazing sun, and we weren't the only ones to suffer from the sun, it was also the case of our companions of road, some crocodiles and otherwhite and gray herons!
The boat trip took place from the village Chiapa de Corzo, lasted 2 hours (round trip) and cost 230 Mexican pesos (€ 10.50).
The indigenous villages Zinacantán and San Juan Chamula
Zinacantán and San Juan Chamula are two villages in Chiapas known for their handicraft and their religious syncretism, manifested in rituals combining both pre-Hispanic and Christian customs.
I couldn't visit Zinacantán, but I tried to take my time in San Juan Chamula and its famous church.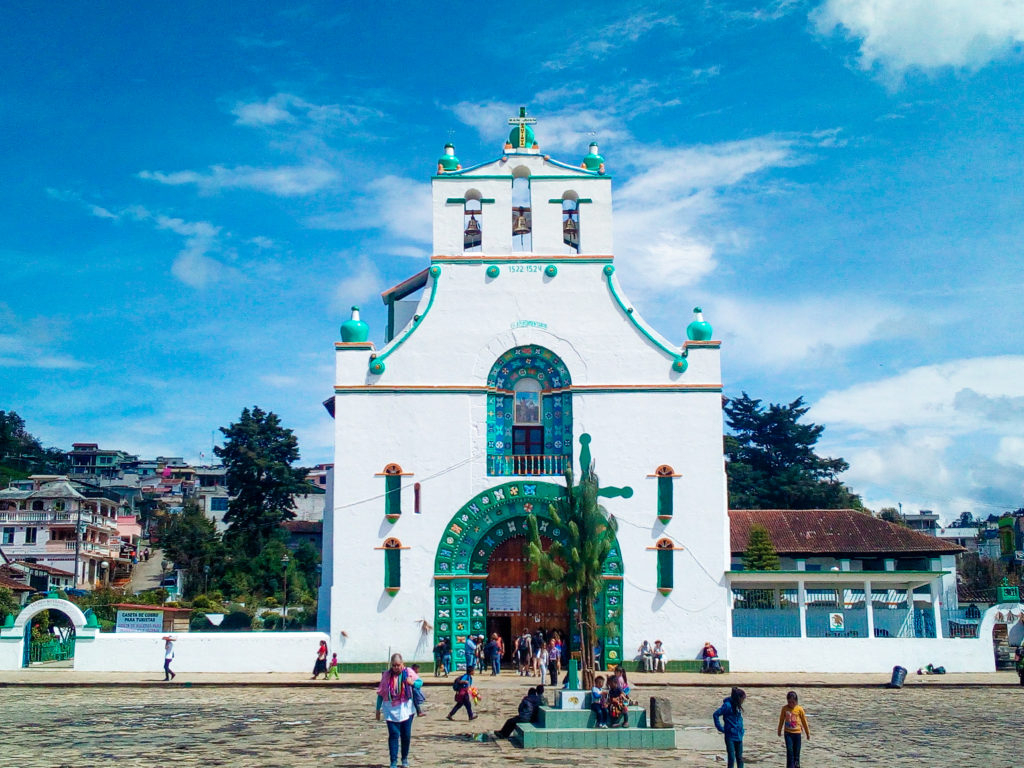 First, the village, full of little stalls selling handicrafts, clothes, and fruit, and where advertising of the stands and shops are in Tzitzal dialect.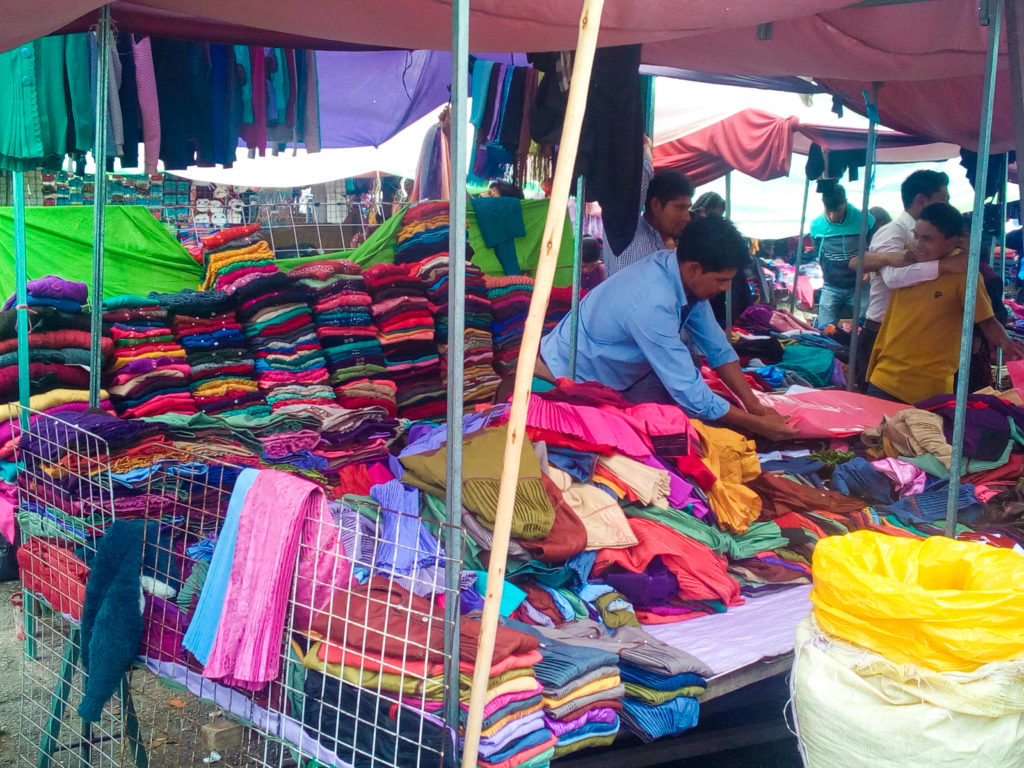 Then the church, dedicated to San Juan Bautista and which has nothing to do with a traditional church. Here there are no chairs, no priest, everyone sits on the ground on pine leaves, and everyone practices his rituals the way he wants.
Here we could find everything. Hundreds of candles, or even thousands. A girl breastfeeding her baby in front of candles and a Saint she venerates with her family. Another woman preparing with her daughters bracelets that she will market later. Another family praying with a chicken to be sacrificed a later and people praying, everywhere, in all directions, but in native Tzotzil dialect. It is almost impossible to breathe as there is smoke, from all these candles but also the incense used here and there.
I stayed about half an hour in the church, trying to understand how are done the rituals but it's a lost cause since everything is said in Tzotzil. So I decided to leave and let people pray quietly.
You should know that it is strictly forbidden to take pictures or videos within the church (at the risk of getting serious problems); I just found a picture of the inside on a poster of a travel agency, giving an idea about the setting once entered.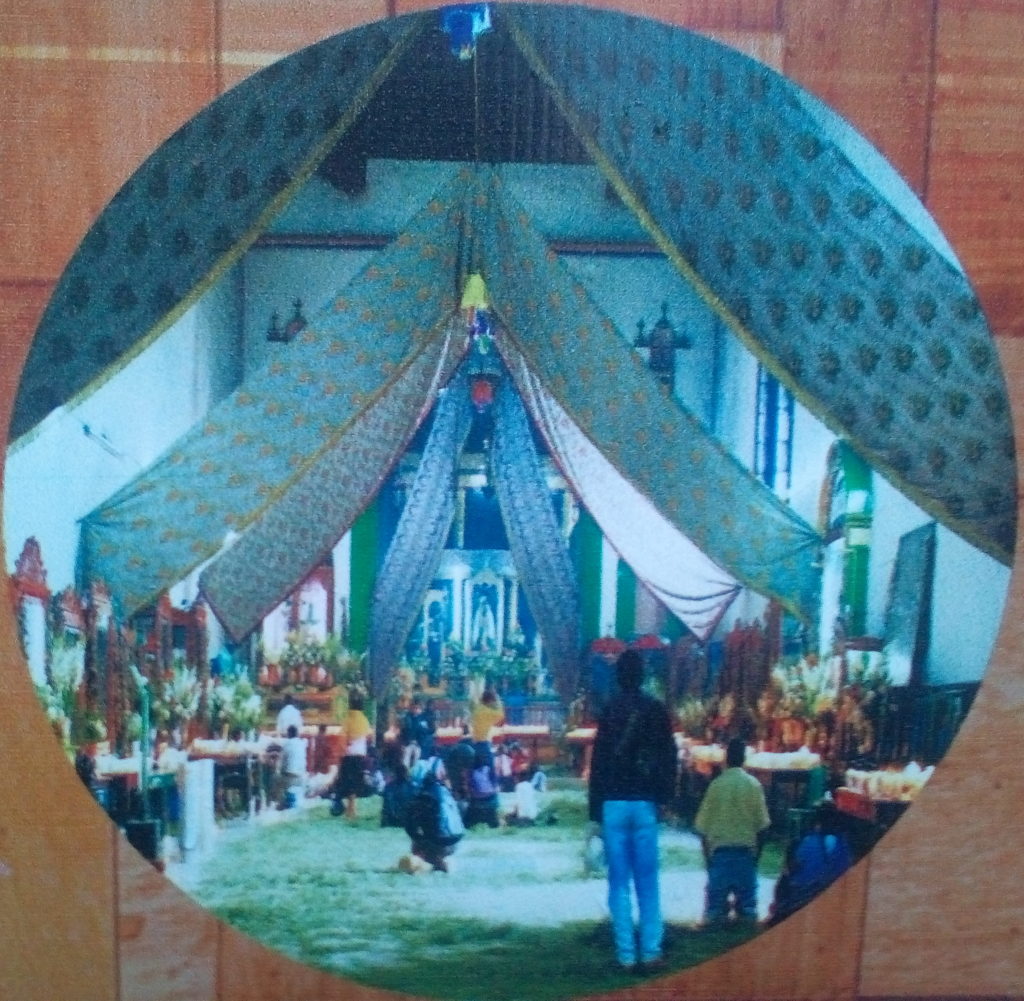 Ovintek, in the heart of an autonomous Zapatista village!
Oventik is one of those villages where the revolutionary spirit is the strongest. Here, people speak in Tzotzil and Tzetal dialects, but they also learn Spanish to be able to communicate with the others. The school calendar doesn't follow the official calendar but rather the seasons of agricultural harvest. From the youngest to the oldest, many are the revolutionaries who wander around with their faces hooded fearing reprisals.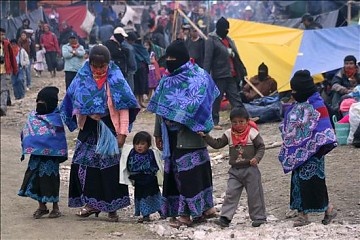 Wherever you look, you can find portraits of Che Guevara and Emiliano Zapata, a figure of the Mexican revolution and also a native who fought for the rights of this population.
Ovintek is governed autonomously since 2003, and over the years it has become one of the icons of the fight for the rights and dignity of the indigenous community in Chiapas, as well as an example of a rebellious self-government system.
There are other sites and excursions in Chiapas, such as the Cascada El Chiflón and the lakes of Montebello, but especially the archaeological site of Palenque, one of the most powerful cities of the Mayan era with the sites from Calakmul and Tikal. It has been rediscovered at the end of the 18th century after being lost in the jungle for centuries.
Pura Vida!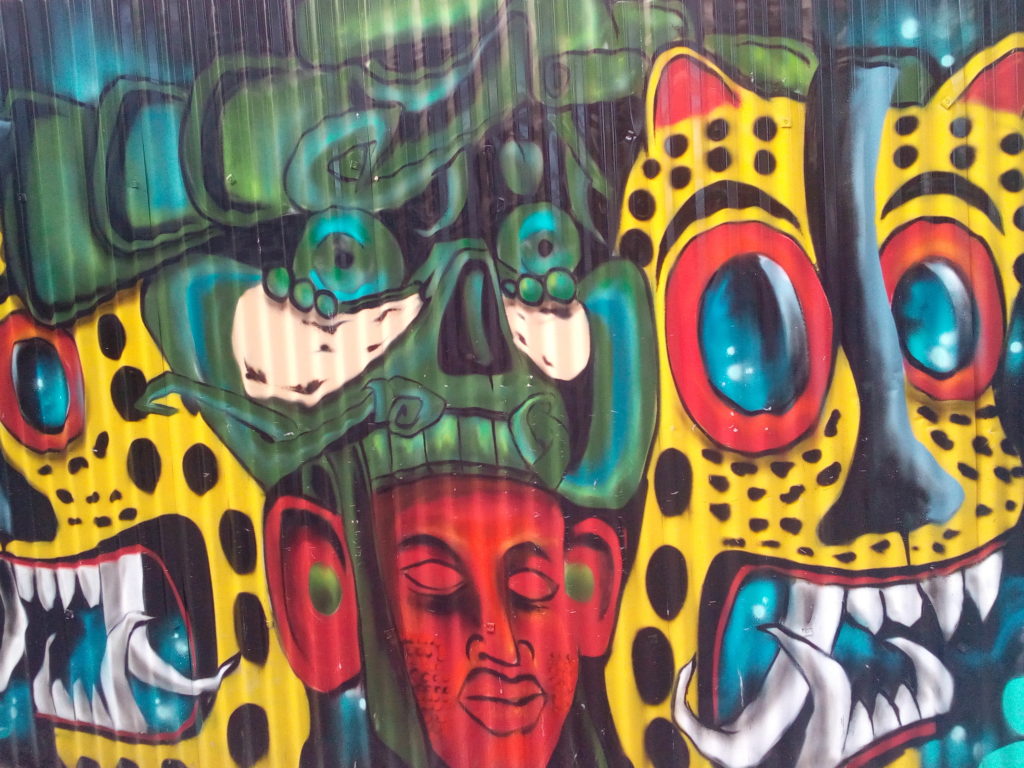 To find all my articles related to Mexico, follow this link.